The final encounter of the Fonbet Russian Cup group stage that was held at VTB Arena ended in a 1:0 win for the White-Blues.
In comparison with the previous match at Grozny Slavisa Jokanovic made four changes in the starting line-up: Diego Laxalt took the left-back position, while Daniil Lesovoy, Fedor Smolov and Yaroslav Gladyshev formed an attacking trio.
The White-Blues needed to win in regular time in order to confidently promote to the Cup next stage. Both sides exchanged chances at the start of the game. Smolov opened up behind defenders' backs and struck into the hands of the goalkeeper. Orenburg responded with Vladimir Sychevoy's effort, who missed the target.
The hosts continued to play a leading part. Gladyshev and Lesovoy have been blocked by defenders. In his turn, Smolov could run one-on-one with Yevgeny Goshev, but was tackled by the Bosnian Renato Gojkovic.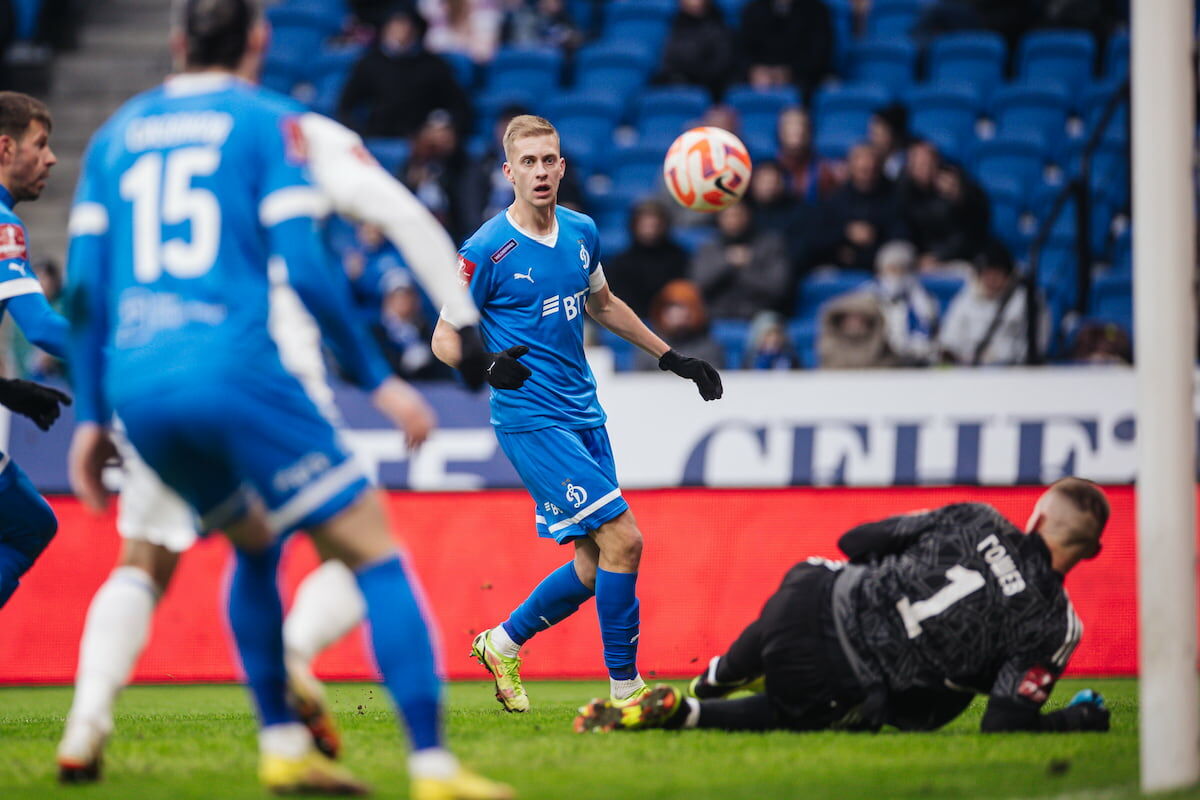 Daniil Fomin had the greatest chance to open the score in the middle of the first half. Arsen Zakharyan crossed towards the penalty box, where Fomin hit the crossbar with the header. Dynamo captain managed to send the ball into the back of the net later, but the referee flagged for offside. By the end of the half Smolov was close to beat the goalkeeper, who made another save stopping the ball by the leg.
After the interval Dynamo continued to dominate and created numerous chances. Goshev saved again denying Kutitsky and Zakharyan's long-range shots.
On the 65th minute, Jokanovic fielded three new players (Dmitry Skopintsev, Denis Makarov and Konstantin Tyukavin) and turned the game in Dynamo favor. Dasa crossed to Lesovoy, who assisted timely on Makarov, and Denis converted teammates' efforts into a 1:0 lead.
Several minutes after the goal the intensity of emotions led to a brawl. After that episode all agressors have been booked by the referee. Soon, Lesovoy could establish himself from the football point of view and double the hosts' lead. Daniil showed nice dribbling, but his shot turned out to be weak. Orenburg played to the end. However, the visitors had no serious chances to equalise.
Dynamo earned 10 points and finished as group leaders. The play-off draw will be held in the coming days.