The encounter of the Mir RPL first round that was held at VTB Arena ended in a 1:1 draw.
Before the match the main puzzle concerned Slaviša Jokanović's choice in centre-back position. Dynamo manager decided to field the experienced player Sergey Parshivlyuk and young Aleksandr Kutitsky in the defensive line at once while Guillermo Varela appeared on his usual right wing.
Rostov started well annoying Dynamo with their longballs towards two forwards – Dmitry Poloz and Nikolay Komlichenko. But the first real chance came to the left-back Yevgeny Chernov who was assisted by Komlichenko. Varela saved Dynamo of big troubles. Five minutes later the Uruguayan international was on top again stopping Poloz at the supreme moment.
The hosts responded with Arsen Zakharyan's clever pass to Fedor Smolov. Unfortunately, our centre-forward couldn't beat Sergey Pesyakov.
In the 16th minute Smolov made it ideal – he entered the penalty box, beat two opponents and rolled the ball to Vyacheslav Grulev. Slava performed perfectly scoring Dynamo first goal this season and 350th club's goal in home matches in July!
By the end of the first half Anton Shunin who had passed the captain's armband to Daniil Fomin following new manager's decision turned the ball aside twice after Danil Glebov and Nikolay Komlichenko's efforts.
When the interval ended, the White-Blues added pressure and came close to double their lead. However, Nikola Moro hit the post with the header. Few minutes later Makarov volleyed the ball shooting wide. That was a real pity because Dynamo winger was going to celebrate a masterpiece.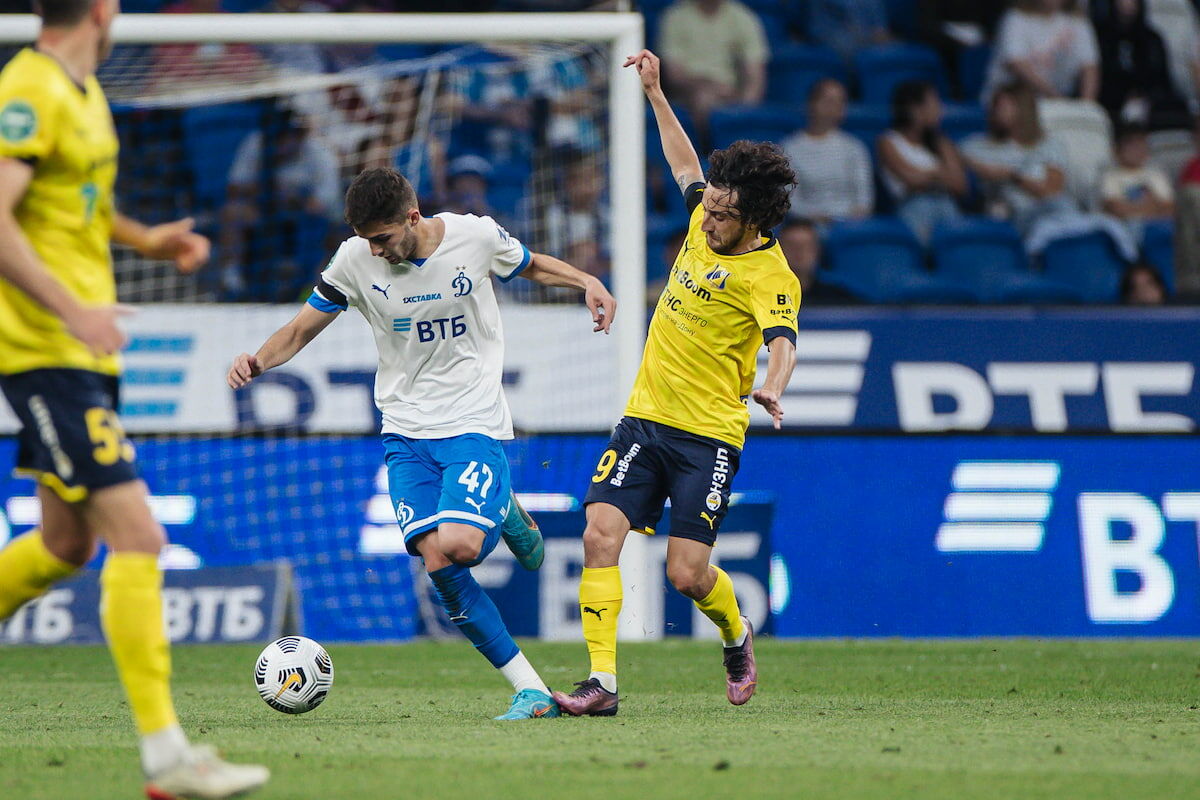 The visitors found the net in the 68th minute when Daniil Utkin crossed to the middle of the penalty box. A cool assist doesn't vanish. This saying was proven by former Dynamo striker Nikolay Komlichenko who scored an equaliser with the header. Jokanović made a double change replacing Smolov and Makarov for Konstantin Tyukavin and Yaroslav Gladyshev.
But this was Rostov substitute Yegor Golenkov who could have made a difference. The tall centre-forward had two chances to be on the scoresheet, but he lacked some luck in finishing.
In the next round Dynamo will host Torpedo in Moscow derby on July 24th. Car factory workers returned to the elite division after seven years of absence.