The encounter of the Fonbet Russian Cup group stage fourth round that was held at VTB Arena ended in a 3:1 win for the hosts.
Slavisa Jokanovic turned to the usual 4-3-3 formation and fielded Konstantin Tyukavin as a unique centre-forward. Denis Makarov and Daniil Lesovoy supported him from wings. Topscorers of both teams – Fedor Smolov and Nikolay Komlichenko remained on the bench.
Dynamo players seized the initiative from the first minutes. This led to a couple of chances created by the hosts. Arsen Zakharyan ideally crossed to Tyukavin who tested Sergey Pesyakov's reaction with the header.
Rostov goalkeeper continued to shine again and again neutralising threat from Makarov who hit the bottom corner.
By the end of half an hour two unpleasant incidents took place. They were linked with a tough duel between Igor Leshchuk and Yegor Golenkov. In the first episode the goalkeeper of the White-Blues beat the centre-forward and turned the ball aside after Aleksandr Silyanov's strike. One minute later Golenkov smashed Leshchuk inside the goal box provoking Igor's harsh reaction. As a result, two players were shown yellow cards.
The hosts continued to dominate and were rewarded by a goal. Zakharyan and Lesovoy successfully played in tackle, Fomin assisted finely on Makarov who punished the Rostov side for the positional mistake.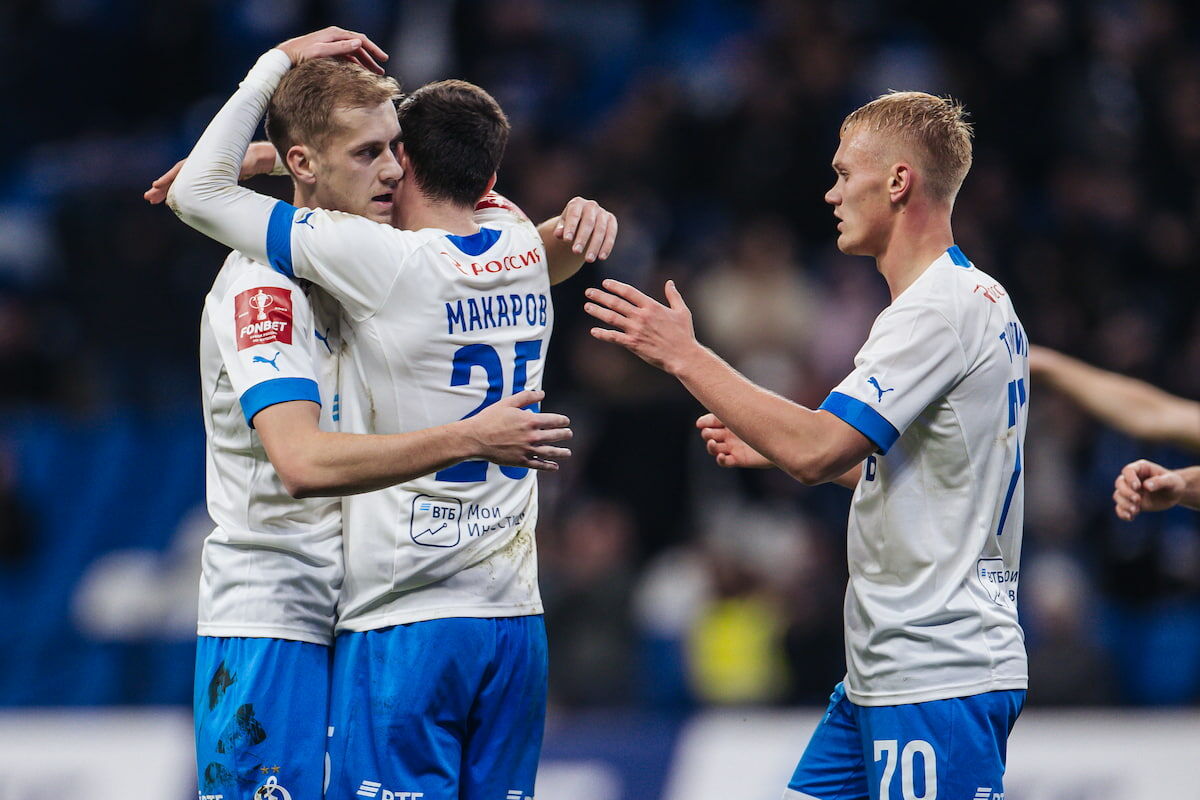 After the break Valery Karpin released three new players – Osipenko, Komlichenko and Tugarev that brought the visitors an equaliser. The former Dynamo striker earned a penalty when Roberto Fernandez was holding him on jersey inside the penalty area. Dmitry Poloz sent the ball to the opposite corner from the goalkeeper – 1:1.
Slavisa Jokanovic made his move that became vital. Smolov and Ngamaleu added more danger to the Rostov goal. The Muscovites created chances regularly. And the second goal was not long in coming. Smolov got a pass from Kutitsky and presented the ball to Grulev on a silver platter. The latter struck into the right bottom corner.
In remaining time Fedor also put his name on the scoresheet assisted by Fomin and Zakharyan – 3:1.
Dynamo earned 7 points and jumped to the first spot in the group. In the next Cup fixture the White-Blues will play against Akhmat on the road. But this Saturday will be a derby day when our team will face Lokomotiv at RZD Arena.