The third friendly game that was held at final VTB training camp this winter ended in a 3:2 win for the White-Blues.
Slavisa Jokanovic divided the squad into two teams once again. The first team had to play the most half of the morning match, while the second one waited for the evening derby against CSKA. Arsen Zakharyan missed last games for medical reasons and joined the starting eleven with Alania.
The Vladikavkaz side used very high pressure at the beginning of the encounter and managed to create a nice chance to score. Nikolay Giorgobiani went one-on-one with Igor Leshchuk, but fired wide.
Dynamo players found quickly how to cope with the starting push of the opponent and scored an opener in the 9th minute. Gladyshev flicked back to Zakharyan, who volleyed the ball into the left top corner.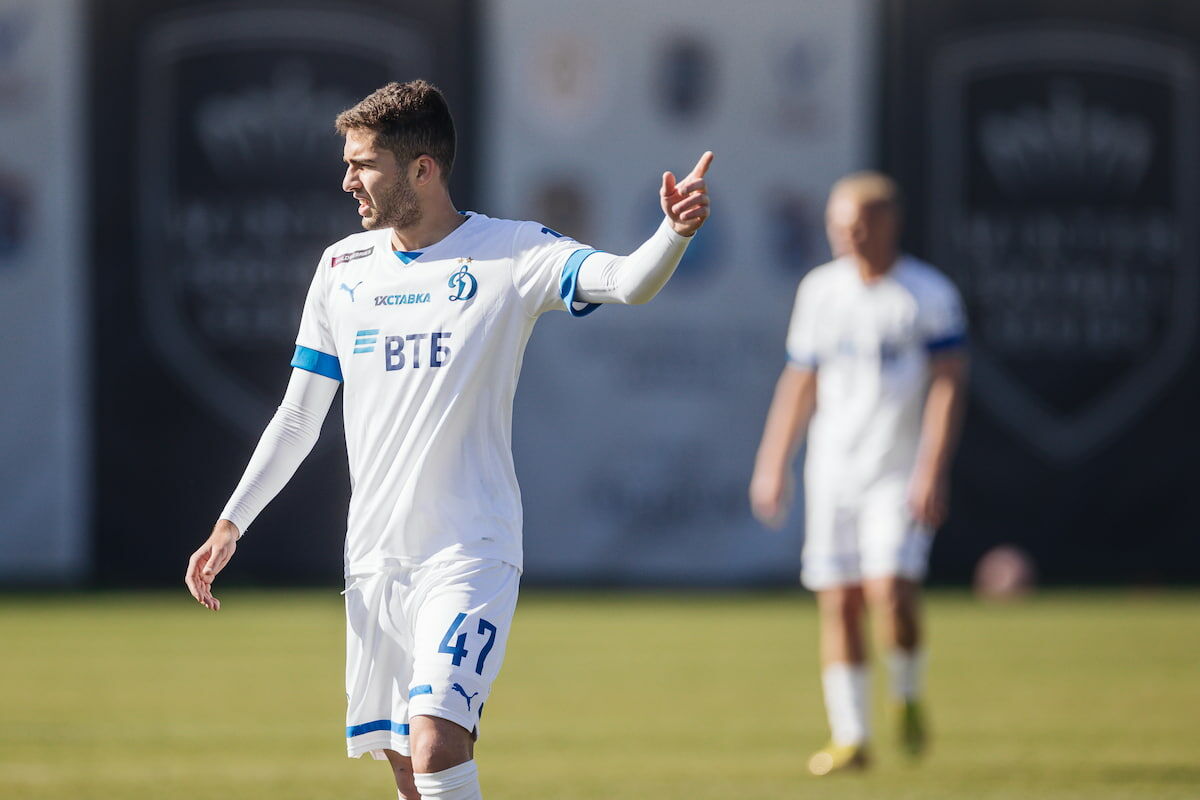 The White-Blues passed through Alania defence by using short and average passes. Georgy Sulakvelidze and Konstantin Tyukavin were close to extend Dynamo lead. However, Soldatenko could deny Georgy's effort, while Konstantin missed the target with his header.
In the next attack the Muscovites held their own. Zakharyan crossed low to Tyukavin and the young centre-forward beat the goalkeeper of the opposing team. By the end of the first half the referee came to the fore and whistled for a penalty, when the ball touched Tyukavin's adpressed arm. Batraz Gurtsiyev cut Dynamo lead – 2:1.
After the interval Arsen Zakharyan was replaced by Ivan Zazvonkin. The White-Blues continued to dominate and Grulev shined on the pitch. Vyacheslav assisted on his teammates and tried to get some luck himself.
The score was levelled unexpectedly. Kicking the ball in tackle, Maksim Aleksandrov touched Maksim Petrov's foot and the Turkish referee pointed to the penalty spot again. Alania best scorer Artur Galoyan didn't miss.
Dynamo restored the lead soon. The goal attack began with Leshchuk's header, then Tyukavin found Grulev, who sent the ball accurately into the bottom corner leaving no chance to Rostislav Soldatenko.
In remaining time both sides could establish themselves again, but Andrey Mazurin, who was loaned from Dynamo didn't beat Leshchuk and on the opposite half of the pitch Zazvonkin was unlucky to finish a well-organized attack.
The White-Blues will play the last friendly game at Turkish winter training camps in the evening, when Slavisa Jokanovic's men will face CSKA (kick-off time is at 5 p.m.).