The second friendly game at winter VTB training camps ended in a 3:3 draw.
Slavisa Jokanovic made four changes in the starting XI in comparison with the previous match against Green Herons. Eli Dasa took the right-back position. Roberto Fernandez formed a centre-back duo with Saba Sazonov. Georgy Sulakvelidze, who didn't play on Wednesday, appeared as a central midfielder, while Konstantin Tyukavin became the starting option as a centre-forward.
Both sides started boldly: nominal left-back Mateo Stamatov made a solo run past Dynamo defenders, but Anton Shunin was first on the ball. Soon Dynamo responded well with Denis Makarov's effort. The right winger weaved towards the penalty box and struck by ricochet into the far bottom corner.
Hat-trick scorer Konstantin Tyukavin was on the frontline, as usual. However, the talented striker couldn't beat Yevgeny Goshev in both episodes.
In the 29th minute Dynamo players opened the score. Diego Laxalt opened up behind defenders' backs and capitalised on Daniil Lesovoy's clever pass.
— Although it's a friendly match, it's nice to score my first goal for Dynamo. Goals always give confidence. Now we need to rest for a couple of days and then come back to training, – the Uruguayan star noted.
Three minutes later Lesovoy showed a real beauty curling the ball into the far top corner. As a result, Daniil levelled Tyukavin in pursuit of the best scorer title during these winter camps.
The Orenburg team was more active in remaining time and could cut the lead. Vladimir Poluyakhtov played on the rebound and netted a goal from the seven-meter mark – 2:1.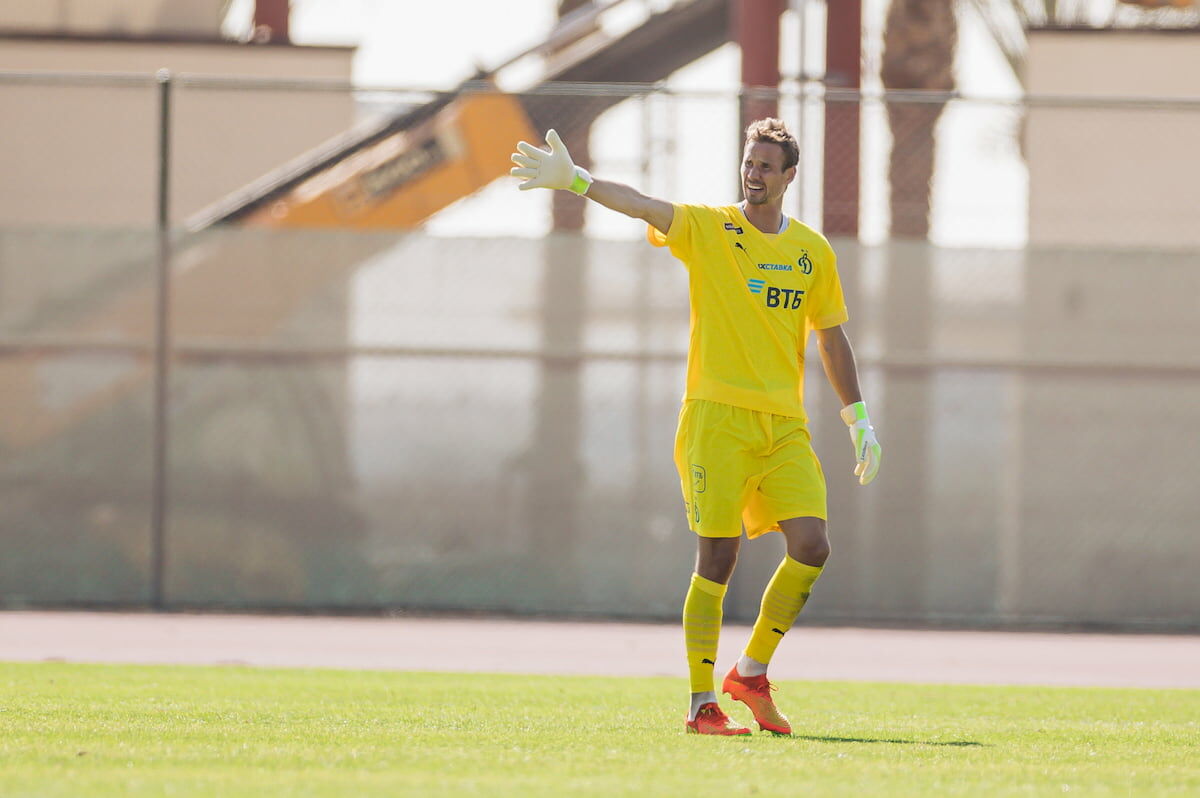 Young central midfielder Ruslan Shagiakhmetov got the chance to establish himself in the second period. Fedor Smolov was on the forefront helping his teammates by passing. In the 64th minute Dynamo took advantage of a briiliant broad attack, which was finished by Cameroonian winger Moumi Ngamaleu.
Our opponents didn't want to retreat. They started striking from distance and, finally, used two consecutive chances in two minutes. Firstly, Milan Majstorovic was falsely penalised for a controversial foul on Stepan Oganesyan. Dmitry Vorobyov converted the penalty. Then, Andrey Malykh fired from outside the penalty area and scored an equaliser.
The White-Blues were close enough to pull out the win, but Aleksey Kenyaykin denied Smolov's long-range shot. The first winter training camp is already over – after dinner, Slavisa Jokanovic's men will fly to Moscow. The next camp will be held in Turkey from January 26 to February 6.